There are several reasons why adding a blazer or structured jacket raises the dress level of an outfit.
~ Historically, blazers were male garments,
~ Structure/tailoring adds formally,
~ Covered arms add professional formality,
~ Semi-fitted garments are dressier than loose garments,
~ Button up the blazer/jacket to further increase formality.
Next time you need to dress up your outfit quickly reach for a tailored jacket.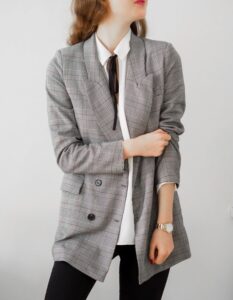 There are over 25 types of Jackets – do you know which one suit you?
Discover your best jacket styles along with your best lapels, collars, sleeves, and jacket length with a personal style consultation and receive a lifetime membership to your customised My Private Stylist personal style program.
Every day is a great day when you know you look fabulous.